ZN SCHOOLS DIVISION RESEARCH CARAVAN
August 16, 2016| by: Leonido A. Pampilo, Jr.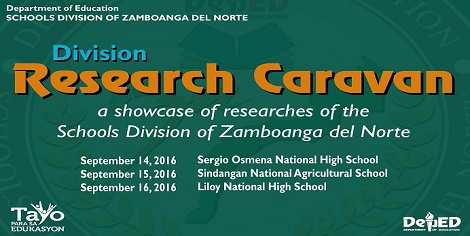 In its pursuit of excellence, the Schools Division of Zamboanga del Norte will hold the Division Research Caravan to promote and advocate the culture of research, recognizing it as an important element in basic education. The caravan wll be an avenue to inform the teaching and non-teaching personnel of the division of research updates of the the Department of Education and will showcase the research conducted and to be conducted in ZN Division.
This will be a one day two-part activity in every congressional district. The first part will be in the morning featuring lectures on the topics, "Orientation on the Basic Education Resaerch Agenda" and "Orientation on the Revised Guidelines on the Basic Education Research Fund (BERF)". The second part will be in the afternoon showcasing the research presentations of the teachers, school heads, public schools district supervisors, CID and SGOD personnel.
The first congressional district caravan will be hosted by Sergio Osmena National High School on September 14 with the effort of its principal, Gerardo Montilla, Jr., SSP IV. In the second district, it will be held in Sindangan National Agricultural School on September 15 with the principal, Nilda Galaura, SSP III. On September 16 the last caravan will be held in Liloy National High School through Fernando Malazarte, SSP II its principal.
The participants of the said activity will be all the master teachers, school heads, public schools district supervisors, concernec CID and SGOD personnel.
Tags:
research
&nbsp&nbsp&nbsp