Montilla assumes office in Sergio Osmeña District
August 30, 2017| by: Marbin A. Tubat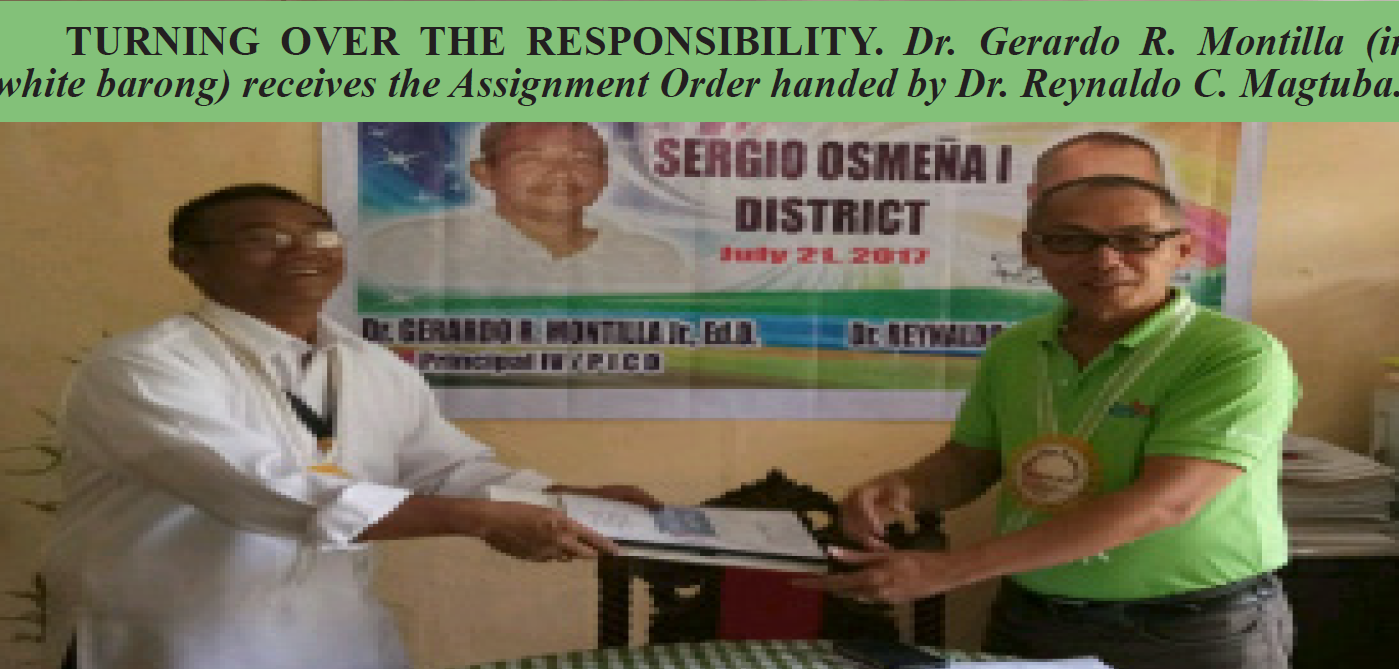 Dr. Gerardo R. Montilla, Jr., the president of the secondary school principal's league in the Schools Division of Zamboanga del Norte and the concurrent Principal IV of Sergio Osmeña National High School (SNOHS) was conferred as the new acting-coordinating principal in Sergio Osmeña I District during the Turn Over Ceremony held at Sergio Osmeña Central School (SOCS) on July 21.
Montilla accepted the new responsibility given to him by the new Schools Division Superintendent (SDS), Dr. Pedro Melchor M. Natividad replacing the outgoing District Supervisor, Dr. Reynaldo C. Magtuba. The program was filled with roller-coaster emotions as the latter delivered his farewell message to his constituents. Dr. Magtuba gave his warmest and sincerest thanks to everyone. "I'm willing to be assigned anywhere in the name of the service and wherever my service is needed, I'm going to be there," Magtuba added. He also narrated his milestones and experiences throughout his exemplary service and handed over all the documents including his project (MAPTA) to the newly appointed District Coordinating Principal.
Meanwhile, the newly appointed District Coordinating Principal, Montilla extended his deepest gratitude to everyone for the warmest welcome and stressed out his advocacies and plans for the betterment of all. Moreover, Montilla narrated his experiences with Magtuba and even pointed out the expertise of his good friend on Instructional Leadership.
"This is an additional load without additional remuneration yet I'm going to accept this with all my heart for this is entrusted to me by our SDS', he jokingly added.
Likewise, he shared the three pinciples of the school Heads namely: authority, responsibility and accountability.
Right after the turn over ceremony, Montilla directly called up a meeting together with the principals, head teachers and master teachers in attendance to plan for the realization of his advocacies.
Tags:
Montilla
&nbsp&nbsp&nbsp
PSDS
&nbsp&nbsp&nbsp